Zoom Support Group Meetings
CCF for PSP Awareness Weekly Zoom Support Group Meetings
Every Thursday 7-9pm Eastern Time
We are excited to announce our Zoom support meetings that provide a virtual platform for us to connect, share, and support one another on our PSP journeys. These meetings will serve as a valuable opportunity to come together, learn from each other's experiences, and find solace in a supportive community.
Meeting Details:
🗓️ Frequency: Every Thursday Evening 7-9pm Eastern Time (Canada & USA)
⏰ Duration: 2 hours
🌍 Zoom Platform 
💻 Meeting Window: Participants can join at any time between 7-9pm

Register in advance for the meeting:
EMAIL US FOR THE LINK

After registering, you will receive a confirmation email containing information about joining the meeting. 
Your input and participation are crucial in shaping these support meetings. Your presence will contribute to a strong and vibrant community that fosters understanding, empathy, and resilience. We are here for you, and together, we can navigate this journey with PSP.
Thank you for your continued support and active engagement. We look forward to connecting with you soon and providing a meaningful space for sharing, learning, and supporting one another.
 

Support Group Facilitator:
Kate Borgert
I am a recent graduate of Queen's University planning to pursue a career in genetic counseling. I think it's really important for health care providers to learn from the patients lived experience in order to provide the best care possible. I want to learn from the experiences of individuals with PSP and their caretakers to inform my future practice, but also because your stories are important and raising awareness about conditions such as PSP is crucial to make progress in research and management options.
About Us:
The Coleen Cunningham Foundation serves individuals and families dealing with Progressive Supranuclear Palsy (PSP), Multiple System Atrophy (MSA) and Corticobasal Degeneration (CBD).
We are a dedicated Non-Profit Foundation Board made up of compassionate volunteers, each with a deeply personal connection to Atypical Parkinsonism. Our unifying bond stems from shared experiences - the struggle to secure a diagnosis, navigating unfamiliar healthcare landscapes, and grappling with a lack of information and community support. These challenges, felt keenly by many families across Canada dealing with Atypical Parkinsonism, have ignited a fervent passion within us.
Moved by our experiences, our mission is not only to provide support but to ensure that no family in Canada faces the same challenges alone. We focus on conditions like Progressive Supranuclear Palsy (PSP), Multiple System Atrophy (MSA), and Corticobasal Degeneration (CBD), all forms of Atypical Parkinsonism often overlooked in mainstream healthcare discourse.
Our vision is to evolve into a National Charity, providing unwavering assistance to every Canadian affected by these conditions. We strive to deliver resources, educational initiatives, and comprehensive support to communities, healthcare teams, and families impacted by these diseases. We believe in forging a well-informed, empathetic community that can truly comprehend and empathize with the struggles associated with these complex conditions.
We stand firm in our commitment that "No One Walks Alone." In every step of this journey, we are here to share the load, provide a guiding hand, and foster a supportive network that ensures no one feels isolated or unsupported. We are the embodiment of solidarity, and in our pursuit of making a difference, we strive to bring light to the shadows of Atypical Parkinsonism in Canada.
No One Walks Alone!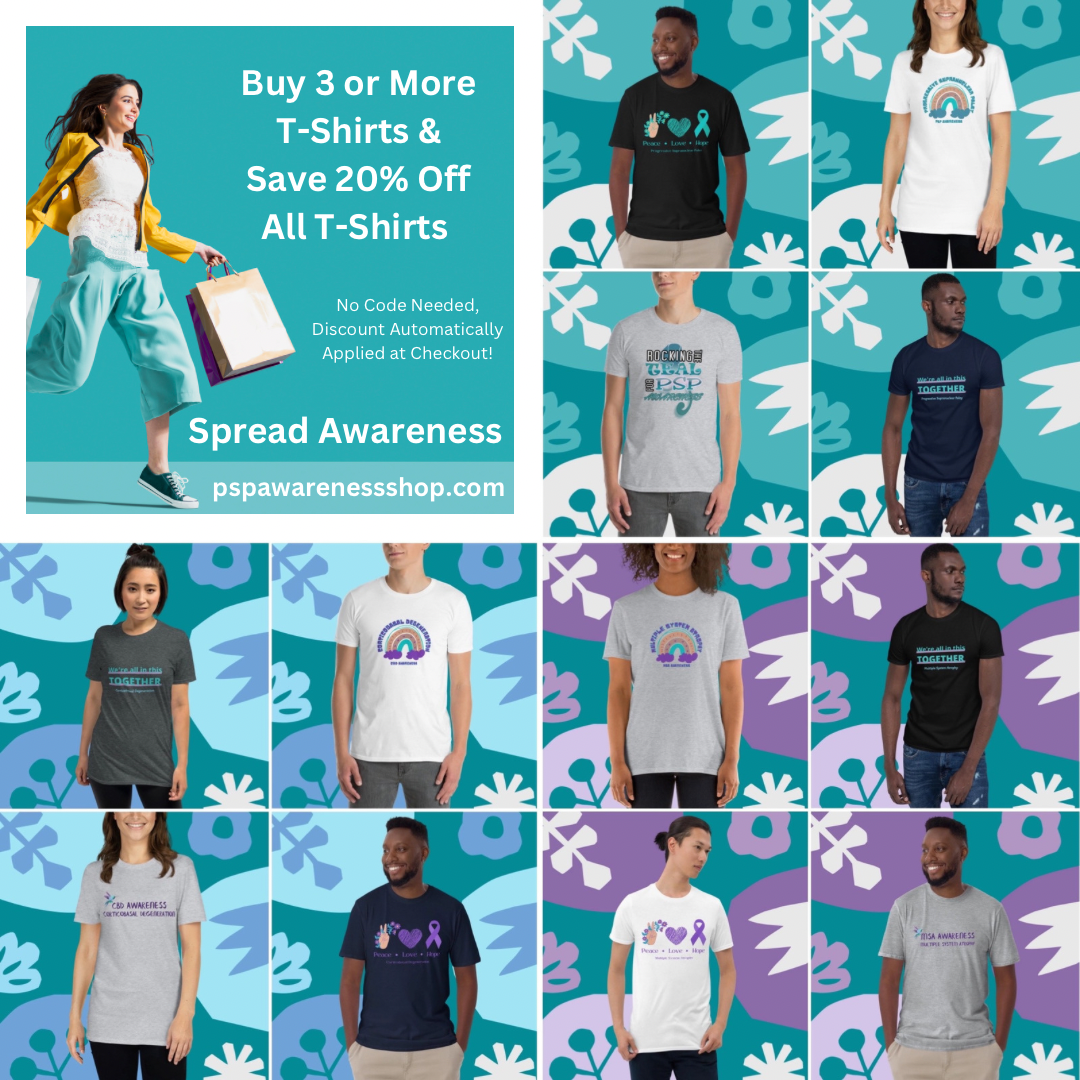 PSP Awareness Shop
Make a purchase with purpose. Each sale supports the fight against Atypical Parkinsonism through the Coleen Cunningham Foundation for PSP Awareness!
SHOP HERE