Warrior Wall
Welcome to our Warrior Wall, a space dedicated to honoring the steadfast courage of those engaged in the fierce battle against Atypical Parkinsonism, and to memorialize those beautiful souls we have tragically lost. Each story told here is a poignant testament to both the unwavering resilience of those who continue their fight each day, and the enduring legacy of those we've lost. Their spirit, bravery, and tenacity echo in these words, serving as a beacon of strength and inspiration for us all. This Wall stands as a tribute to their journey, a celebration of their indomitable spirit, and a solemn promise to carry their legacy forward.
We would be honoured to add your warrior to our wall, contact us. 
"Through adversity, we rise as warriors, united in strength and relentless in pursuit of victory."
 Coleen Cunningham: A Strong Fighter and Loving Woman
May 18, 2019
Coleen Cunningham was a true fighter who battled Progressive Supranuclear Palsy (PSP) with incredible strength and courage. Despite the challenges she faced with PSP, Coleen remained a loving and caring woman who always put others first. She was a dedicated wife, mother, and grandmother who cherished her family and friends. Coleen's kindness and compassion touched the lives of many, and her memory will continue to inspire us.
Coleen's resilience and determination in the face of PSP were truly remarkable. She refused to let the disease define her, instead choosing to live her life to the fullest and make the most of every day. She was a role model to many and a source of strength for her loved ones.
Coleen's legacy is one of bravery and love. Her strength and fighting spirit continue to inspire us all as we work together to raise awareness and support for PSP research. She was a remarkable woman who embodied the best of what it means to be a fighter and a loving person. Her legacy will continue to inspire us all to never give up hope and to cherish the time we have with our loved ones.
Camille Joseph Côte
June 27th 2023
Camille Joseph Côté was a blessed man who lived a very full 75 years.
His first two years were in an orphanage until he was adopted. At 12 years old he returned to the orphanage for a short time. After brief stays with a couple of foster families, he would be blessed with his forever family, the Dalcourts. As a young man he joined the Navy where he really did get to see the world, Bermuda, Copenhagen, Portugal among many other places. He was also able to see our wonderful country from coast to coast. After five years of service, his love of photography brought him to Winnipeg. Here his joy of flat roads and speed (and a few too many tickets) kept him from leaving. Next came his love for Joan, a young prairie girl and her beautiful smile. Little did he know the joy the next 44 ½ years would bring!
Together Joan and Camille were blessed with two daughters, Serina, and Michelle. Later in life he gained two sons-in-law, Colin, and Paul. The arrival of their grandsons, Gabriel, and Eli, brought him immense joy in his new role as Papère. 
As his family grew so did his faith. With his family and friends, Camille grew to love our Lord and Saviour. His commitment to Christ and the church was strengthened through his involvement with Worldwide Marriage Encounter and the Knights of Columbus. During his illness, Camille's faith, brought strength to himself and those around him.
Camille's 29-year career with Flynn Canada Ltd took him and his family from Winnipeg to Calgary to Abbotsford. After his retirement, Camille and Joan enjoyed vacationing to the East Coast, California, Italy, France, and Ireland. Camille felt blessed to encounter beautiful places and people in our world. 
Camille loved to talk! Sometimes his French accent provided humour to conversations 'Coffee Crips anyone??' He welcomed the opportunity to share stories of his life, his love, and his experiences – what you saw was what you got; but what we got was so much love. His laughter -contagious, his openness – heartwarming, his honesty – sincere, his caring attitude – genuine, and his willingness to help others – a blessing to many. 
In 2019 he was diagnosed with Primary Progressive Aphasia. In 2020 he received the devastating diagnosis of Progressive Supra Nuclear Palsy (PSP). Throughout the last few years, he continued to navigate these insidious illnesses with strength, humour, faith, and the love of his family and friends. These dreadful diseases took his voice, his body and eventually his life. He never complained but rather saw the blessings in each day. 
Many thanks to family and friends who supported us from near and far. Thank you to Dr. J. Stoessl, Dr. Iqbal, Dr. Greyling for their care, compassion, and honesty. Special thanks to Jenna, Kara, Amam, and Jillian. 
Donations can be made at www.pspawareness.com
He was strong and now we must be. He will spend eternity with our Lord and all those who have gone before him. We will spend our eternity here on earth sharing his story. Keep watch over us my love. You are missed and loved very much.
Merna Glowinski
Sunday, July 09, 2023
GLOWINSKI, Merna - Passed away peacefully surrounded by family on Sunday, July 9, 2023. Merna Glowinski, beloved wife of the late Melvin Glowinski. Loving mother and mother- in-law of Cory and Julia, and Kevin and Alana. Dear sister and sister-in-law of Fern Mosoff and Paul Magder. Devoted grandmother of Skye, Oakley, Levi, and Oliver. A special thank you to Elsie, Grace, and VIVA staff for their loving care and support. A graveside service will be held on Monday, July 10th at 11:00 a.m. in the Temple Har Zion section of Pardes Shalom Cemetery, 10953 Dufferin Street, Vaughan (north of Major MacKenzie). Memorial donations may be made to the Coleen Cunningham Foundation c/o UHN Foundation
https://bit.ly/3PN0Kcg
Donna Lynn Hicks
October 15, 2019
It is with the heaviest of hearts and with the greatest of sadness that we share with you the passing of our beautiful and beloved mother/wife/sister/aunt/grandmother Donna Lynn Hicks.
As with everything in her life our mother was forced to fight a winless battle with a rare and positively wretched brain disease called Progressive Supra-nuclear Palsy...(AKA PSP)
From this day forward the World will seem a little less safe, our lives a little more empty, our hearts forever missing a piece...But we do take comfort in knowing her horrendous battle is over, her eyes are now resting and her heart is finally at peace.
Thank You Mom...Thank you for making me the woman I am and Todd the wonderful man and Father that he is...thank you for raising us in a home of 51 years of marriage and love...Thank you for teaching us that life isn't easy-but that it's worth fighting for...Thank you for never letting us NOT be accountable for our own actions and for always ensuring that we were treating others how we would want to be treated...thanks for the laughter, the hugs and the tough love...Thanks for being a Blockparent, an amazing Aunt and of course adoring Grammy...Thanks for supporting all the local artists and their trinkets and for allowing us to tease you with "They sold one!"...Thanks for never changing and for always just being "you"...Thanks for going back to school and proving it's never too late...Thanks for loving animals so deeply and for wanting to rescue a 12 year old cat with diabetes and HIV because you said no one else would love it! ( Wonderful intentions but we didn't let her do it- we got her Rocky instead ).... Thank you for your strong work ethic and dedication to both your career and your family...most importantly Mom- Just thank you- for being you...I am so so proud to have been your daughter.
Please know you have left this Earth so totally and completely loved and adored by so so many and you will be so very missed every single day...We will celebrate you and your amazing life...Your light will still shine oh so bright-we will make sure of this...Love you always and forever Mom

PS. I hope that Uncle Doug and Uncle Wayde, Lanny and Donna are all there hugging and kissing you now in our place
Lori Hicks

About Us:
The Coleen Cunningham Foundation serves individuals and families dealing with Progressive Supranuclear Palsy (PSP), Multiple System Atrophy (MSA) and Corticobasal Degeneration (CBD).
We are a dedicated Non-Profit Foundation Board made up of compassionate volunteers, each with a deeply personal connection to Atypical Parkinsonism. Our unifying bond stems from shared experiences - the struggle to secure a diagnosis, navigating unfamiliar healthcare landscapes, and grappling with a lack of information and community support. These challenges, felt keenly by many families across Canada dealing with Atypical Parkinsonism, have ignited a fervent passion within us.
Moved by our experiences, our mission is not only to provide support but to ensure that no family in Canada faces the same challenges alone. We focus on conditions like Progressive Supranuclear Palsy (PSP), Multiple System Atrophy (MSA), and Corticobasal Degeneration (CBD), all forms of Atypical Parkinsonism often overlooked in mainstream healthcare discourse.
Our vision is to evolve into a National Charity, providing unwavering assistance to every Canadian affected by these conditions. We strive to deliver resources, educational initiatives, and comprehensive support to communities, healthcare teams, and families impacted by these diseases. We believe in forging a well-informed, empathetic community that can truly comprehend and empathize with the struggles associated with these complex conditions.
We stand firm in our commitment that "No One Walks Alone." In every step of this journey, we are here to share the load, provide a guiding hand, and foster a supportive network that ensures no one feels isolated or unsupported. We are the embodiment of solidarity, and in our pursuit of making a difference, we strive to bring light to the shadows of Atypical Parkinsonism in Canada.
No One Walks Alone!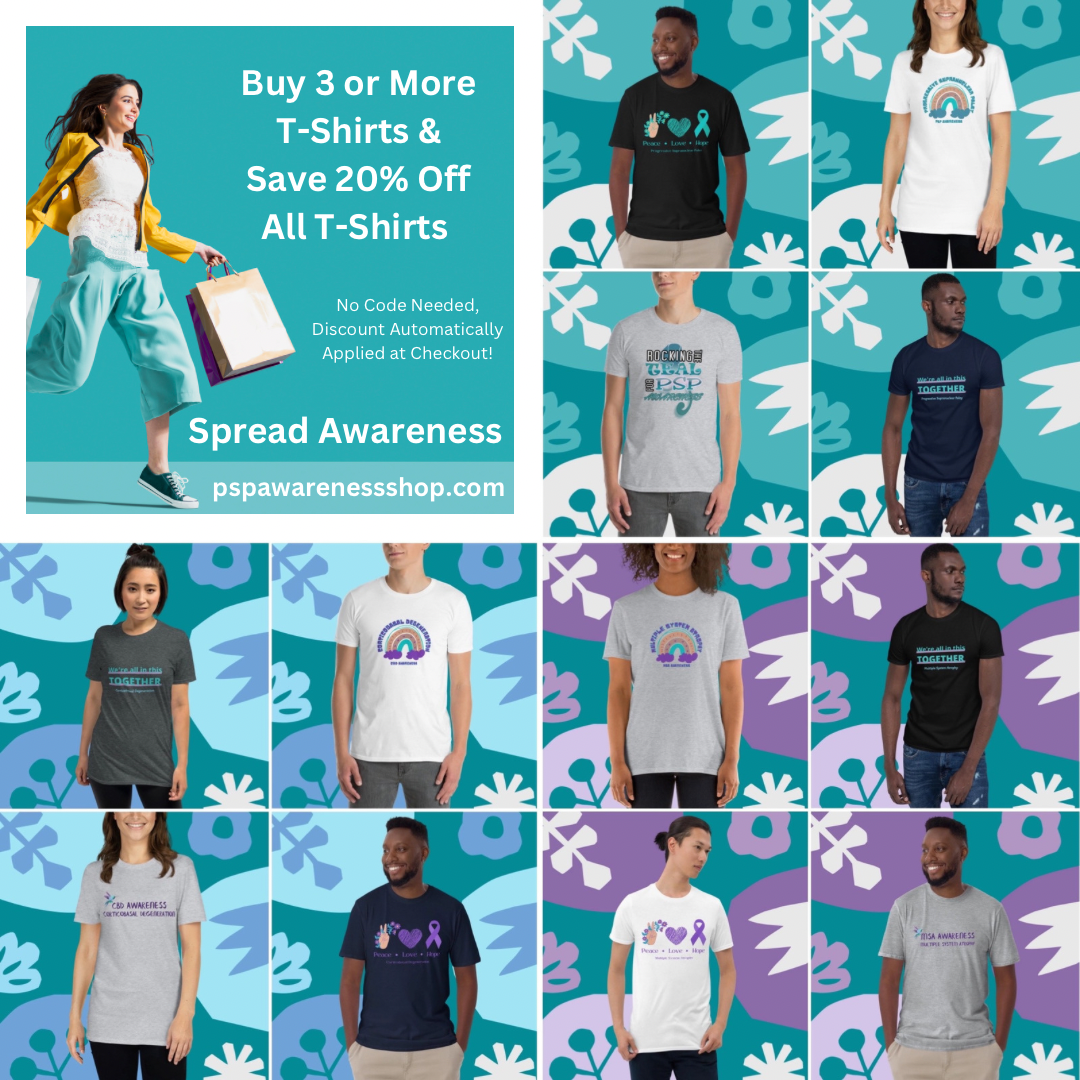 PSP Awareness Shop
Make a purchase with purpose. Each sale supports the fight against Atypical Parkinsonism through the Coleen Cunningham Foundation for PSP Awareness!
SHOP HERE