Donate
Your Donations to CCF support our Programs for Individuals and Families touched by Atypical Parkinsonism.  With your donations we are able to offer support and resources to those in need, and make sure
N
o One Walks Alone
on this journey.
Learn more HERE about our Programs that directly support individuals and families touched by Atypical Parkinsonism.
About Us:
The Coleen Cunningham Foundation serves individuals and families dealing with Progressive Supranuclear Palsy (PSP), Multiple System Atrophy (MSA) and Corticobasal Degeneration (CBD).
We are a dedicated Non-Profit Foundation Board made up of compassionate volunteers, each with a deeply personal connection to Atypical Parkinsonism. Our unifying bond stems from shared experiences - the struggle to secure a diagnosis, navigating unfamiliar healthcare landscapes, and grappling with a lack of information and community support. These challenges, felt keenly by many families across Canada dealing with Atypical Parkinsonism, have ignited a fervent passion within us.
Moved by our experiences, our mission is not only to provide support but to ensure that no family in Canada faces the same challenges alone. We focus on conditions like Progressive Supranuclear Palsy (PSP), Multiple System Atrophy (MSA), and Corticobasal Degeneration (CBD), all forms of Atypical Parkinsonism often overlooked in mainstream healthcare discourse.
Our vision is to evolve into a National Charity, providing unwavering assistance to every Canadian affected by these conditions. We strive to deliver resources, educational initiatives, and comprehensive support to communities, healthcare teams, and families impacted by these diseases. We believe in forging a well-informed, empathetic community that can truly comprehend and empathize with the struggles associated with these complex conditions.
We stand firm in our commitment that "No One Walks Alone." In every step of this journey, we are here to share the load, provide a guiding hand, and foster a supportive network that ensures no one feels isolated or unsupported. We are the embodiment of solidarity, and in our pursuit of making a difference, we strive to bring light to the shadows of Atypical Parkinsonism in Canada.
No One Walks Alone!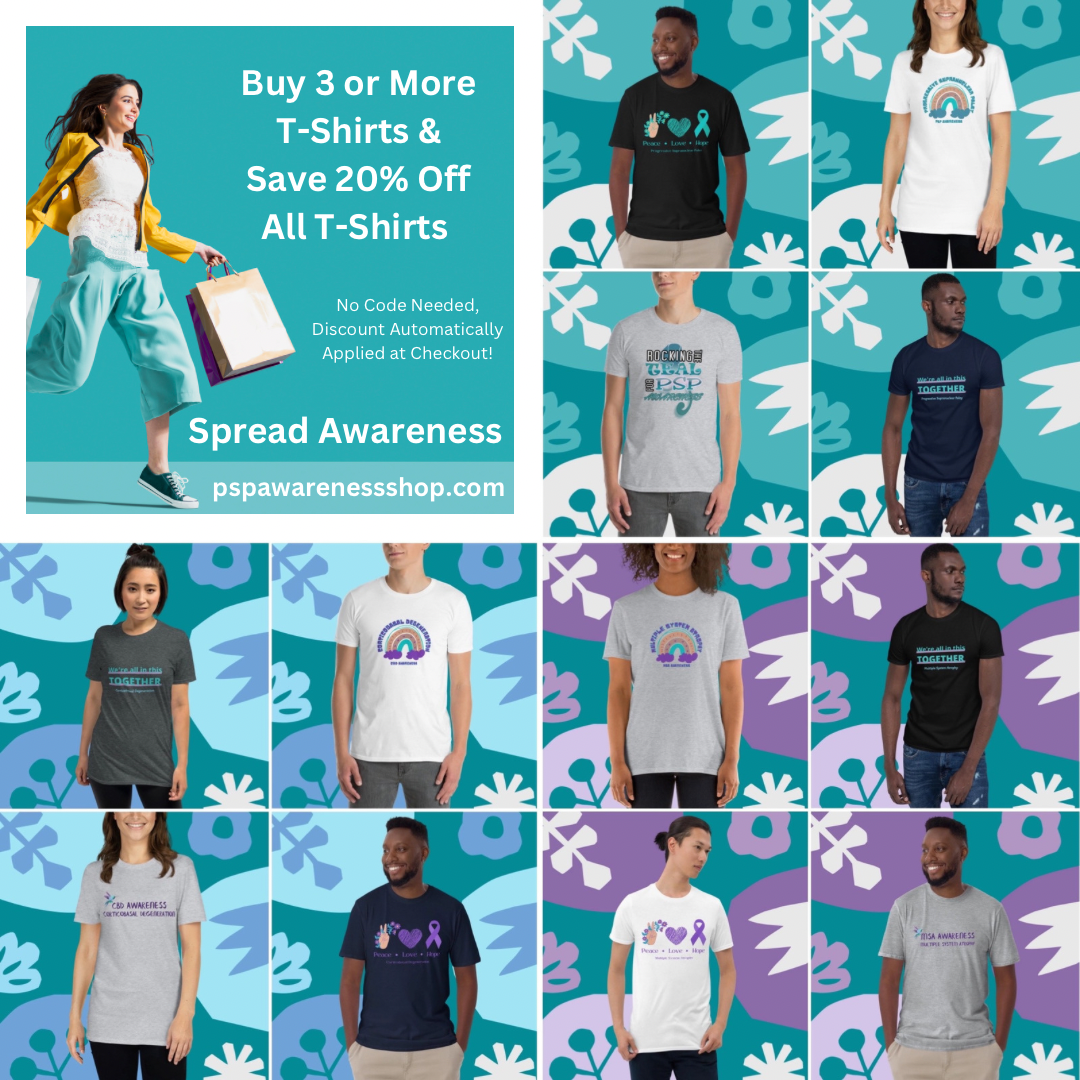 PSP Awareness Shop
Make a purchase with purpose. Each sale supports the fight against Atypical Parkinsonism through the Coleen Cunningham Foundation for PSP Awareness!
SHOP HERE