Board of Directors


Laura Louizos
Meet Laura, an unstoppable force of love, compassion, and resilience. In 2018, her life took an unexpected turn when her beloved mother was diagnosed with Progressive Supranuclear Palsy (PSP). Despite the struggle and sacrifice that came with being a primary caregiver, Laura faced these challenges with grace and determination.
When her mother passed away in May 2019, Laura turned her pain into purpose, focusing on spreading awareness for PSP. Her mission? To shed light on this often overlooked condition.
After the loss of her mother, Laura sought solace in the serene beauty of Barbados, a journey that lasted from September 2020 till February 2021. When she returned, she enrolled in a Personal Support Worker (PSW) course, furthering her knowledge and skills in care-giving.
Laura's newfound abilities were put to test when her father experienced a near-death medical episode in January 2022. Undeterred, Laura once again stepped into the role of a caregiver, showcasing an unyielding strength that continues to inspire.
Today, Laura volunteers full time for the Coleen Cunningham foundation (CCF) for PSP Awareness, using her personal experiences to raise awareness about PSP. She supports others navigating the same challenging journey, standing as a beacon of hope and a pillar of support. Laura's journey is a testament to her dedication and unwavering commitment to making a difference in the world of PSP. She continues to inspire many with her resilience and courage.
Bill Cunningham
Meet Bill, a man whose strength and resilience is matched only by his dedication to a cause close to his heart.
In late 2018, his life was dramatically altered when his wife was diagnosed with Progressive Supranuclear Palsy (PSP), a condition that often remains under the radar. After a brave battle, his wife passed away in May 2019. This loss deeply affected Bill, leading to subsequent medical issues.
However, adversity only fuelled his resolve. Turning his personal experience into a collective cause, Bill joined the board of the Coleen Cunningham Foundation, named after his late wife, where he serves as chair. He now devotes his time and efforts to this significant mission, channeling his experience and grief into a force for change.
Bill's story is one of resilience in the face of loss, of transforming personal pain into a broader purpose. Through his work with the Coleen Cunningham Foundation, he continues to raise awareness about PSP, supporting those who are dealing with the challenges it brings, and honoring his wife's memory in the most meaningful way possible. His journey serves as a beacon of hope and strength for many others touched by PSP.
Terry Louizos
Introducing Terry, a pillar of support and strength, whose unwavering commitment has been instrumental in his family's journey.
When his wife Laura's mother was diagnosed with Progressive Supranuclear Palsy (PSP) in 2018, Terry didn't hesitate to step up. He managed the home front, providing the necessary support that enabled Laura to dedicate herself fully to her role as a caregiver. His strength allowed Laura to focus her energy and love on her mother during this challenging time.
Even after the passing of Laura's mother, Terry continued to serve his family and extended his efforts beyond. Embracing the cause close to their hearts, Terry now serves as the vice-chair on the board of the Coleen Cunningham Foundation.
Terry's story is a testament to his love, resilience, and dedication. His willingness to step into whatever role was necessary for the wellbeing of his family demonstrates a unique strength of character. Through his work with the Foundation, he continues to contribute significantly to raising awareness about PSP, providing invaluable support to others on a similar journey. His story inspires many, a quiet but powerful reminder of the strength of unity in facing life's most significant challenges.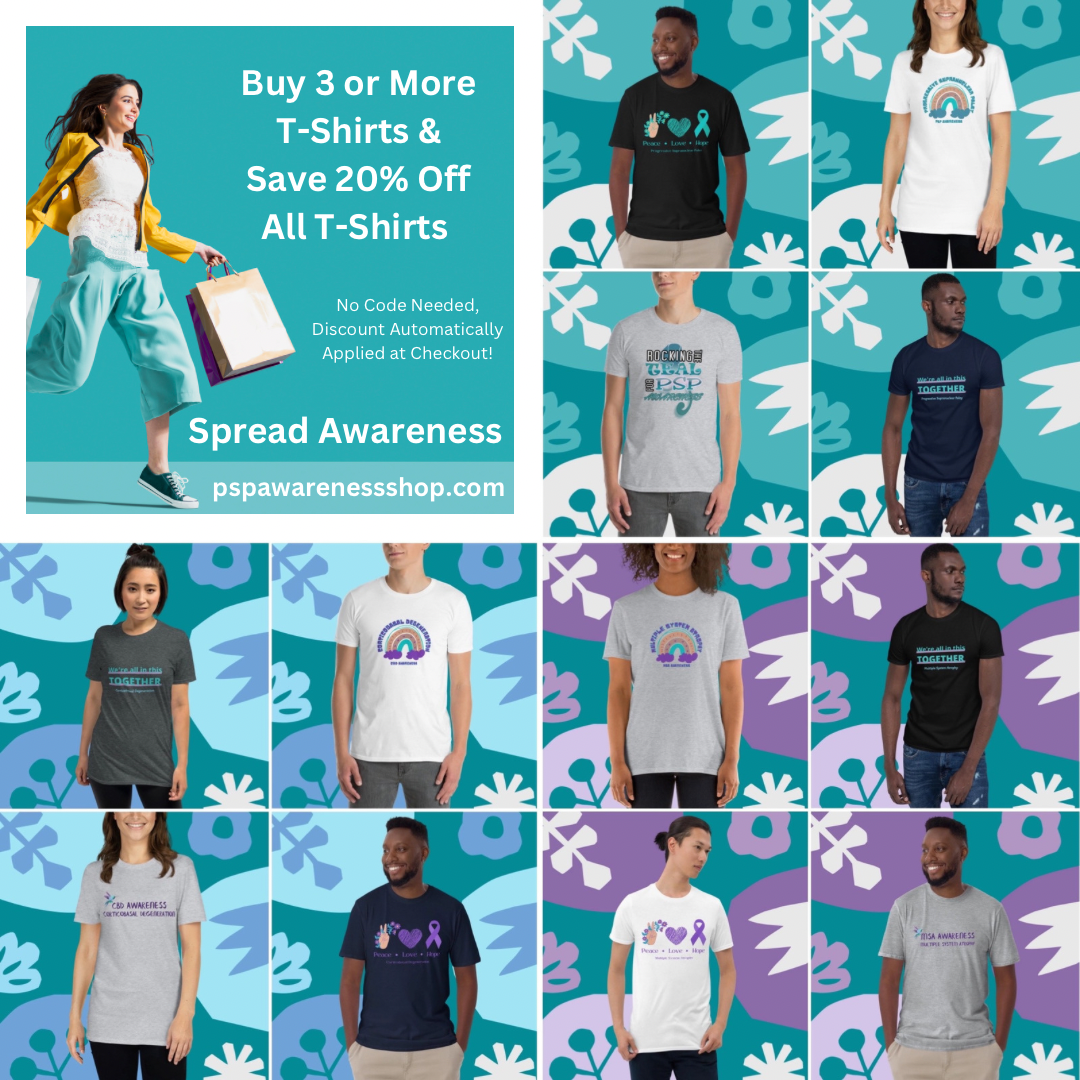 PSP Awareness Shop
Make a purchase with purpose. Each sale supports the fight against Atypical Parkinsonism through the Coleen Cunningham Foundation for PSP Awareness!
SHOP HERE