Atypical Parkinsonism Resource Links
Tons of great resources and information all in one place!
Click on the logo* to visit their website


*All third-party trademarks, logos, and brand names shown on this website are the property of their respective owners. These brand names, logos, and trademarks are used only for identification purposes and do not imply endorsement.

Through An Extremely Generous Donation from The Rossy Family Foundation, The Rossy Progressive Supranuclear Palsy Centre Has Been Created to Tackle Progressive Supranuclear Palsy and Similar Conditions.
CurePSP is the leading source of information and support for prime of life neurodegenerative diseases, including PSP, CBD, MSA, ALS, CTE and FTD.
PSPA is a national charity providing support and information to people living with PSP and CBD while funding research into treatments and ultimately a cure.
Since 1965, Parkinson Canada has worked to provide support services and education to people living with Parkinson's disease including PSP/MSA/CBD, their families, and the health care professionals who treat them.
The Michael J. Fox Foundation is dedicated to finding a cure for Parkinson's disease through an aggressively funded research agenda and to ensuring the development of improved therapies for those living with Parkinson's today.
The Krembil Brain Institute at Toronto Western Hospital (UHN) is home to​ one of the world's largest and most comprehensive teams of physicians and scientists uniquely working hand-in-hand to prevent and confront problems of the brain and spine.
If you live with a rare disease, or love someone who does, NORD is here to help you. For more than 30 years, we have been providing services for patients and their families, rare disease patient organizations, medical professionals, and those seeking to develop new diagnostics and treatments.
PSP is one of the diseases being studied as part of the NINDS Parkinson's Disease Biomarkers Program, which aims to discover ways to identify individuals at risk for developing Parkinson's and related disorders, and to track disease progression.
Every year, more than a million people come to Mayo Clinic for care. Our highly specialized experts are deeply experienced in treating rare and complex conditions.
Online Support Groups by CurePSP
Check out these online support groups offered by CurePSP.  Attend them from the comfort of your home at your convenience!
About Us:
The Coleen Cunningham Foundation serves individuals and families dealing with Progressive Supranuclear Palsy (PSP), Multiple System Atrophy (MSA) and Corticobasal Degeneration (CBD).
Mission Statement:
CCF is dedicated to enhancing the quality of life for those nearing the end of life's journey, particularly focusing on individuals and families affected by atypical Parkinsonism. Our mission encompasses not only the provision of comprehensive hospice care but also extends to emotional and psychological support. With the establishment of hospice care homes by 2025/26, our commitment will evolve into a dual entity: CCF will continue its mission to spread awareness and support, while CHCH (Coleen's Hospice Care Homes) will become a registered charity dedicated to providing specialized hospice care and family support.

Objective Statement:
Until the establishment of CHCH, CCF will concentrate on connecting individuals to local community resources, facilitating support groups, and hosting awareness and fundraising events. Our fundraising efforts support both our foundation's work and contribute to CurePSP's Centre of Excellence- UHN the Rossy PSP Centre. With our significant online presence, we aim to use our digital platforms to maximize our impact. Upon the launch of CHCH, our foundation will expand its services, specifically targeting the needs of families affected by atypical Parkinsonism, offering them dedicated hospice care and comprehensive support. Through these efforts, CCF and CHCH together will strive to create a supportive, aware, and compassionate community, addressing the challenges faced by those at the end of life's journey with atypical Parkinsonism and their families.

No One Walks Alone!

Laura Louizos
Executive Director
Coleen Cunningham Foundation for
PSP Awareness
         
#AD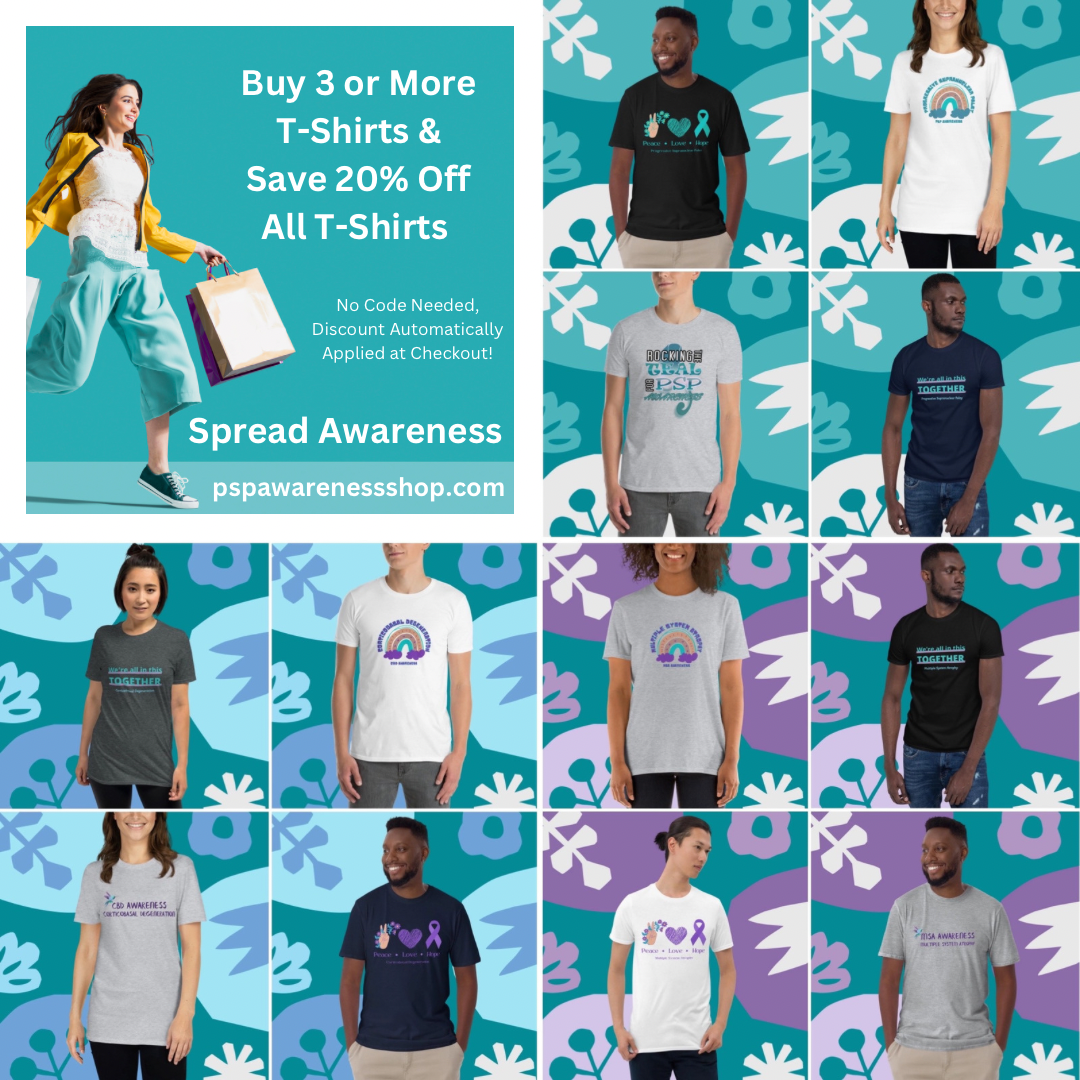 PSP Awareness Shop
Make a purchase with purpose. Each sale supports the fight against Atypical Parkinsonism through the Coleen Cunningham Foundation for PSP Awareness!
SHOP HERE