Local Support Groups

ONTARIO
Burlington, Ontario
Ontario PSP/MSA/CBD Support Group patients and caregivers
Location: Port Nelson United Church, 3132 South Drive, Burlington ON
Meeting Time: Last Monday of every month 1-3pm (Excluding December)
Facilitator: January Bailey Will, EMAIL
By: CCF for PSP Awareness
Burlington Support Group (Parkinson's, PSP/MSA/CBD)
Address : Appleby Place - 500 Appleby Line, Burlington, ON L7L 5Z6, Canada
Date(s): Meets the 3rd Monday of each month (except July & August)
Time : 1:00 PM-3:00 PM
Contact Telephone : 1-800-565-3000    
Contact Email : info@parkinson.ca
By: Parkinson Canada
Burlington Carepartner Group (Parkinson's, PSP/MSA/CBD)
Address : St. Paul Apostle Church - 2265 Headon Rd, Burlington, ON L7M 4E2, Canada
Date(s) : Meets the 2nd Tuesday of each month (except July & August)
Time : 1:00 PM-3:00 PM
Contact Telephone : 1-800-565-3000  
Contact Email : info@parkinson.ca
By: Parkinson Canada
Toronto, Ontario
Toronto Care Partner Group (Parkinson's, PSP/MSA/CBD)
Address: Parkinson Canada Office
4211 Yonge Street, Suite 316
Toronto, Ontario
Date(s) : Meet the 3rd Wednesday of every month.
Remote video attendance available.
Time : 6:15 pm – 8:00 pm
Contact: 1-800-565-3000
Contact Email :  info@parkinson.ca
By: Parkinson Canada
Toronto – Care Partners 2

 (Advanced Stages)
Address : Parkinson Canada Conference Centre

4211 Yonge Street, Suite 305

Toronto, Ontario
Date(s) : Meets the 2nd Tuesday of every month. Year Round.
Time : 6:30 PM - 8:30pm
Contact: 1-800-565-3000
Contact Email : info@parkinson.ca
By: Parkinson Canada
MONTREAL
Montreal Facebook Group for PSP/MSA/CBD/LBD patients and caregivers
Location: Click Here
Associated Medical Center: Centre Hospitalier de L'Université de Montreal
By: CurePSP 
CALGARY
Calgary Support Group for PSP/CBD/MSA caregivers
Location: Meeting virtually - contact facilitator for link
Meeting Time: 3rd Saturday of every month from 12:00pm-2:00pm
Facilitator: Kelly Clapham, claphamk@telus.net, 403-803-3307
By: CurePSP 
BRITISH COLUMBIA
British Columbia Support Group for PSP/MSA/CBD/LBD patients and caregivers
Location: Contact facilitator for location
Associated Medical Center: University of British Columbia Hospital
Meeting Time: 4th Friday of every month from 10:00am-11:30am
Facilitator: Bob Brett, curepspbc@gmail.com, 604-930-8150
By: CurePSP 
More Across Canada Coming Soon!
Please let us know If you would be interested in facilitating a meeting in your area. We are always in need of new group leaders. We will assist with all the setup and provide support along the way!
About Us:
We are a dedicated Non-Profit Foundation Board made up of compassionate volunteers, each with a deeply personal connection to Atypical Parkinsonism. Our unifying bond stems from shared experiences - the struggle to secure a diagnosis, navigating unfamiliar healthcare landscapes, and grappling with a lack of information and community support. These challenges, felt keenly by many families across Canada dealing with Atypical Parkinsonism, have ignited a fervent passion within us.
Moved by our experiences, our mission is not only to provide support but to ensure that no family in Canada faces the same challenges alone. We focus on conditions like Progressive Supranuclear Palsy (PSP), Multiple System Atrophy (MSA), and Corticobasal Degeneration (CBD), all forms of Atypical Parkinsonism often overlooked in mainstream healthcare discourse.
Our vision is to evolve into a National Charity, providing unwavering assistance to every Canadian affected by these conditions. We strive to deliver resources, educational initiatives, and comprehensive support to communities, healthcare teams, and families impacted by these diseases. We believe in forging a well-informed, empathetic community that can truly comprehend and empathize with the struggles associated with these complex conditions.
We stand firm in our commitment that "No One Walks Alone." In every step of this journey, we are here to share the load, provide a guiding hand, and foster a supportive network that ensures no one feels isolated or unsupported. We are the embodiment of solidarity, and in our pursuit of making a difference, we strive to bring light to the shadows of Atypical Parkinsonism in Canada.
No One Walks Alone!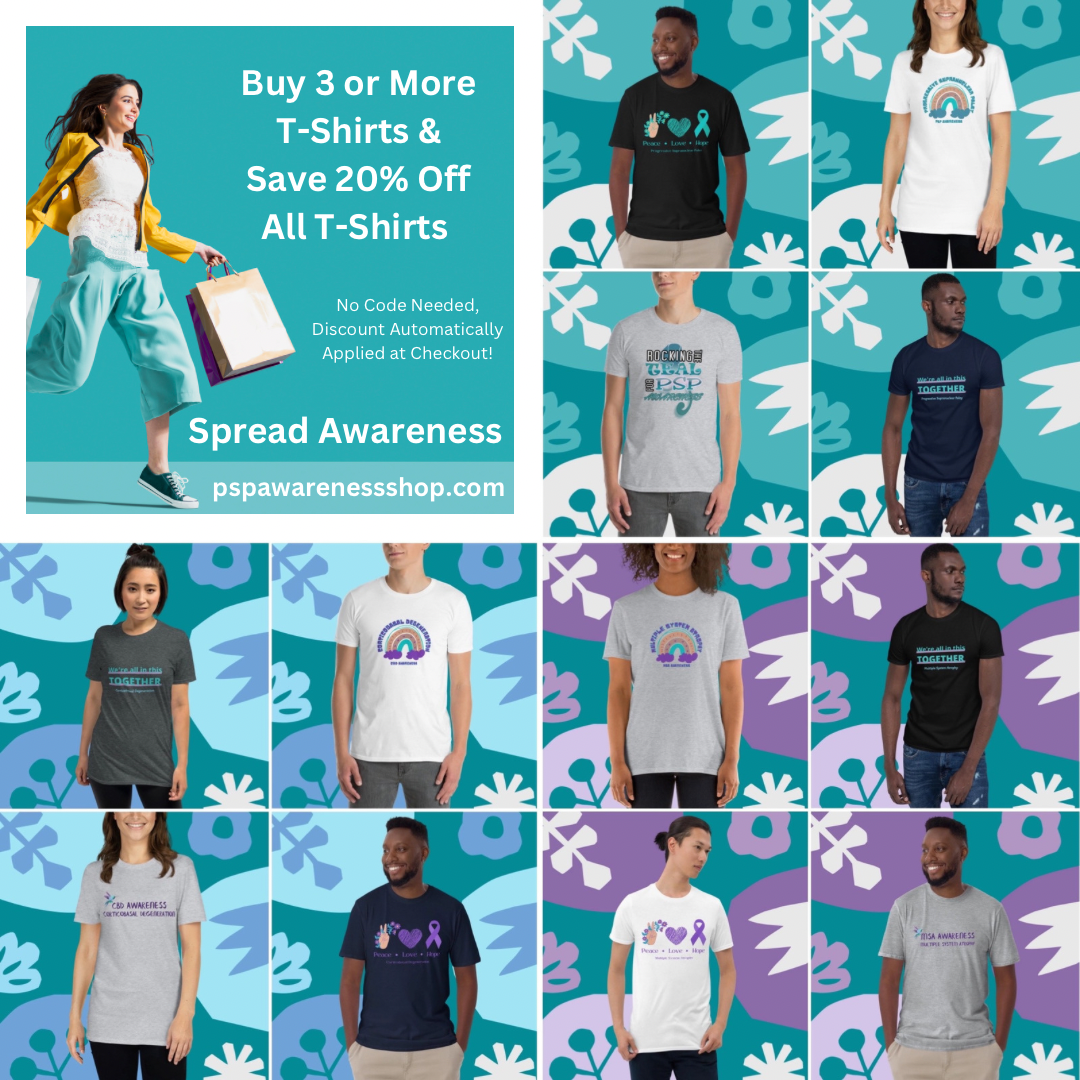 PSP Awareness Shop
Make a purchase with purpose. Each sale supports the fight against Atypical Parkinsonism through the Coleen Cunningham Foundation for PSP Awareness!
SHOP HERE