Testimonials - Your Voice
Here, you can find out what our valued members are saying about us and read their heartfelt comments. We believe that the experiences and opinions of our community are essential, as they reflect the true essence of our organization. Join us as we showcase the voices that make our community thrive and discover the impact we have on our members' lives.
My 58 year old son has been followed by neurologist, thinking either frontal live dementia or PSP
From what i am reading seems more like PSP, his voice is quiet, balance off etc
He is on levadopa but dont see improvement
CINDY LABISH, JUNE 14, 2023
My father is entering the last stages, currently in the hospital with sepsis, chronic anemia, a kidney infection, and his body twisting into the most uncomfortable positions. He is also a retired physician and all too aware what is happening to him. Arranging care has been difficult through stages 2 and 3. Harder still, now that we are suddenly and firmly in 4, we are seeing him suffer through moments of paranoia and hallucinations. I understand that these symptoms are more common with Parkinson's, but we are seeing it with PSP and it is heartbreaking.
CHRISTOPHER, JUNE 14, 2023
PSP and Parkinson's have similar symptoms but are not otherwise related. My wife has psp where early symptoms were gross imbalance. We also noted a flicker in her left eye when focusing intently on something. The neurologist who finally diagnosed also noted that in her right eye but less noticeable. All of the other symptoms spoken of here have been hers as well. Do some memory lanes talking with these loved ones and let them know of the blessing they brought into your life and how valued they are because of that! When asking questions about foods, for example, don't give a list and ask which one. One at a time, ask yes or no and coach the a nod or head shake will be OK. Short term memory is gone, like parkinsons so they can't handle a list. That is a backhanded blessing for them because something bad that happened yesterday is not remembered today! Be positive!
MERRILL NISSEN, JUNE 14, 2023
My mother in law is 67 at present and is suffering from PSP for last 4 years. She today is admitted to Hospital due to breathing difficulty and Doctors decided to keep her on ventilator as her oxygen is 45 percent instead of 95 or above. Doctors said that she has infection in her lungs and needed antibiotic. Just wondering if anyone experienced the same and open to guidance on what to expect. Thank you all
PRAVEEN, JUNE 14, 2023
My wife passed in 2011 from psp. She was bipolar and suffered from depression.
She was given 12 to 15 shock treatments 
In 2009 -2010. I feel the shock treatments 
Lead to her psp. Just wondering???
BRUCE GADAIRE, MAY 13, 2023
I was referred to Mayo Clinic by my family doc and was just diagnosed with PSP a few months ago at Mayo. I am still getting along in my home with the help of my husband. I do not have Alzheimer's as I passed the test for it. They say PSP is not inherited, but I don't know how they can be sure as they know so little. My paternal grandfather was diagnosed with MS in the 1930's and I cannot help but wonder if he was misdiagnosed. I have a lift power chair to help me get up, but use it sparingly as I want my muscles to do work as long as possible. My balance is not good. My bowels have slowed down, and I need lots of fiber supplements. I am wondering if anyone who reads this also suffers from constipation.
DIANE, MAY 13, 2023
My mom died of PSP and my sister died of parkinsons. Are they related????
JANIS KING, APRIL 30, 2023
My husband has PSP and it is devastating. I am caring for him with help of part time aide. What I have read here was very helpful, I thank you.
MAXINE WERNIK-FAUSAK, APRIL 19, 2023
To answer a question that someone had , my mom was first told she had a stroke after knee surgery . She just said she knew that wasn't it and she stayed after her Dr to continue to order more tests until they realized it was PSP. Scary disease to watch your loved ones die with this & it's scary to think it could happen to you as well . But my mom never got dementia and so far my sister has a great memory still . So I don't think she's going to lose her memory either .
GLENNA COLE, APRIL 19, 2023
My mother had PSP and died in 2013, my sister started showing same symptoms in 2015 by 2019 she was diagnosed with PSP which we already felt like she had it . She is probably getting towards the last stage now , in a nursing home . It's a horrible disease . She has to adult sons and I'm her only sibling and I have 3 sons and 2 daughters , all grown now . My sister was 56 when diagnosed. We are all so afraid we might get this as well . However 3 people in our city have had this and 2 were my mom and sis. Praying for a cure or meds to slow this down for everyone.
GLENNA COLE, APRIL 19, 2023
I found this helpful as the doctors in our area do not know much about this illness and we are struggling by ourselves. Possibly we will get him enrolled in Palliative Care very soon. I am having difficulty getting him to eat anything or to drink much of any fluids. He has dementia advancing daily it seems.
MELBA V ANDREWS, MARCH 17, 2023
Thank you . As a carer it's essential to know about the journey we and our loved ones are on.
SUSAN SWEET, MARCH 17, 2023
Hi,
I was wondering if anyone knows how often this is misdiagnosed as dementia (ie FTD) and if siblings are likely to suffer from it.
Thanks.
LOUISE, MARCH 17, 2023
i CERTAINLY LIKE WHAT i AM READING. I AM 84. I CANNOT SAYI WANTED THIS TO HAPPEN BUT IT HAS.
VALERIE Y ROSAS, MARCH 17, 2023
All this info is so appreciated. I care for my husband.
PHYLLIS DOUGLAS, MARCH 17, 2023
My ex husband has been diagnosed with PSP we think he's probably 2-3 yrs looking at the symptoms he's showing
SANDRA MASINI, MARCH 17, 2023
My beloved father went through this ordeal… 2011 to 2015..he was in Stage 1_somehow we dragged it through alternate therapies. 2015 to 2017..he was in Stage 2. 2017 to 2019 March… He was in stage 3. 2019 April, he was admitted for Aspirational Pneumonia.. Came back home in a week..did well that month.. By 20th of May, he started slowly fading out.. And he broke my heart and left us on 31 May 2019. My beloved father stayed with us all through _loved and cared by me, my wife and my daughter. Being a Caregiver is very hard on us as we have no experience on the changing circumstances and no control on the outcome. I wish the best for all who are going through a similar situation. Love your parents more now.. My hugs to you..
HEMANTH CHANDRASHEKAR, MARCH 17, 2023
Theirs a probability I've PSP,but suffering slightly different symptoms of falling forward after not being able to control my walk
CRISPIN MERRIMAN, MARCH 17, 2023
Thanks you for this. I'm a carer and just wondering how far she has to suffer and what more there is to come. It was very useful.
TIM, DECEMBER 19, 2022
Thank you for this. I'm a carer.
DAMETRA, DECEMBER 18, 2022
I found this very useful as I'm a carer and didn't know alot about psp.
MARLENE HARRINGTON, DECEMBER 9, 2022
Thank you for all that you do
SHERRI PONDER, FEBRUARY 12, 2021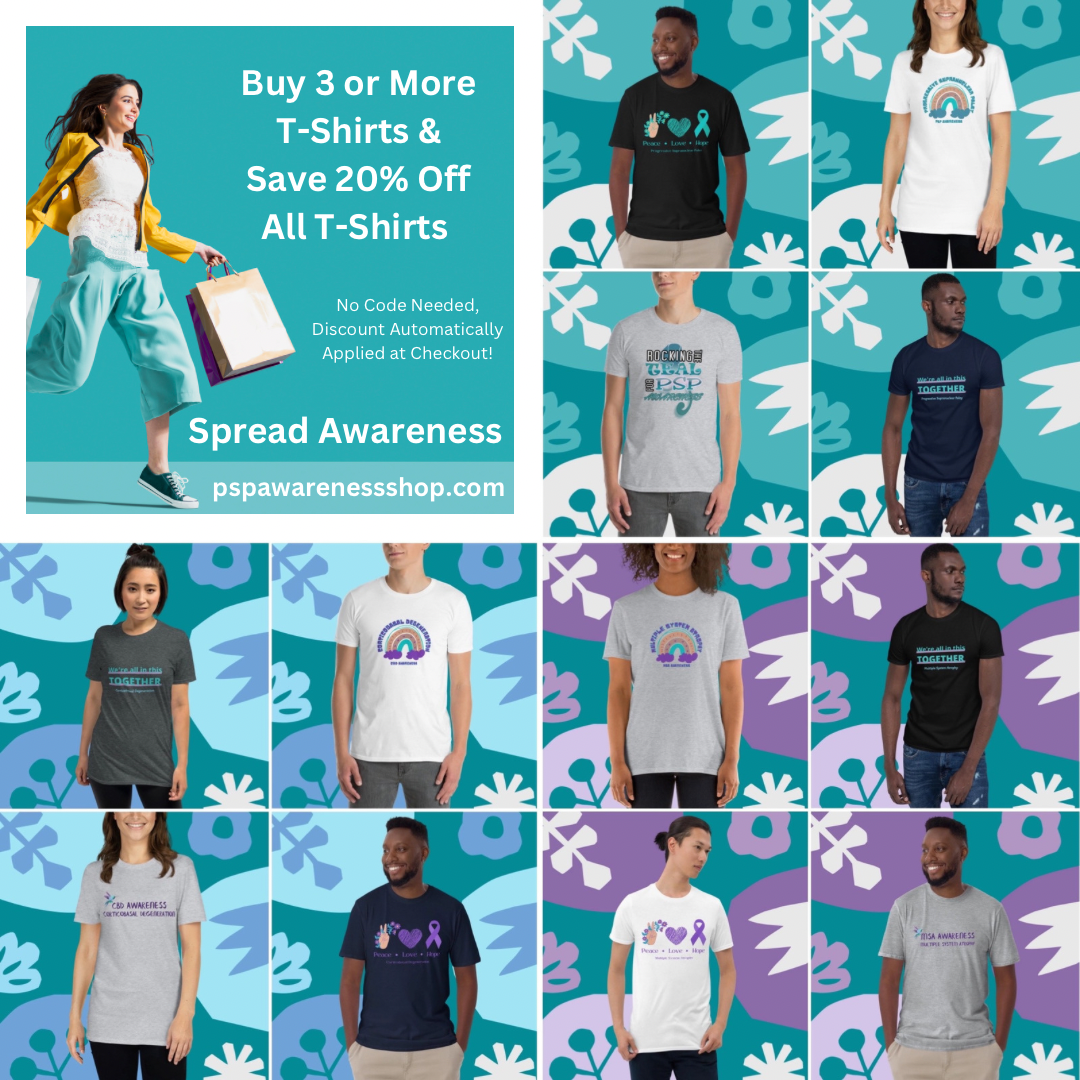 PSP Awareness Shop
Make a purchase with purpose. Each sale supports the fight against Atypical Parkinsonism through the Coleen Cunningham Foundation for PSP Awareness!
SHOP HERE