Respite Care Program
We offer family caregivers some much needed respite care to help them take care of themselves and their loved ones, at no cost to them.
Are you a family caregiver to someone with Atypical Parkinsonism and in need of some extra support and respite care? We want to help!
The benefits of respite care for family caregivers
Allows time for rest and recuperation. Caring for a loved one can be a highly demanding and challenging responsibility that no one should have to go through alone. 
Creates a chance to tend to personal needs.
Relieves pressure and stress.
Helps to prevent social isolation.
Grant Eligibility
To be eligible for the CCF Respite Grant, the caregiver(s) loved one living with Atypical Parkinsonism must be professionally diagnosed (Clinical) with Atypical Parkinsonism and fit within the following criteria.
Currently living at home.

Caregiver(s) is facing financial and emotional hardships due to the unique challenges of Atypical Parkinsonism.

Resides in Canada.
Calling all Health Care Professionals with experience caring for someone with Atypical Parkinsonism; PSW, HCA, RN, RNA, Caregiver...
Do you have experience with Atypical Parkinsonism? We want to hear from you. We are specifically looking for health care individuals who have hands on experience with the diseases at this time, however we are accepting applicants who wish to learn and attend our training that will be offered later. We will be offering free training in the New Year for individuals who do not have experience and wish to learn. Contact us to put your name on the list and receive updates once the training classes open! It's FREE! No Obligation to work or volunteer with us, just learn together. Remote and in person training available. Atypical Parkinsonism presents complicated challenges that require a great understanding of the diseases to protect and care for the individuals properly.
**We are always looking for companion volunteers for short visits and/or phone calls.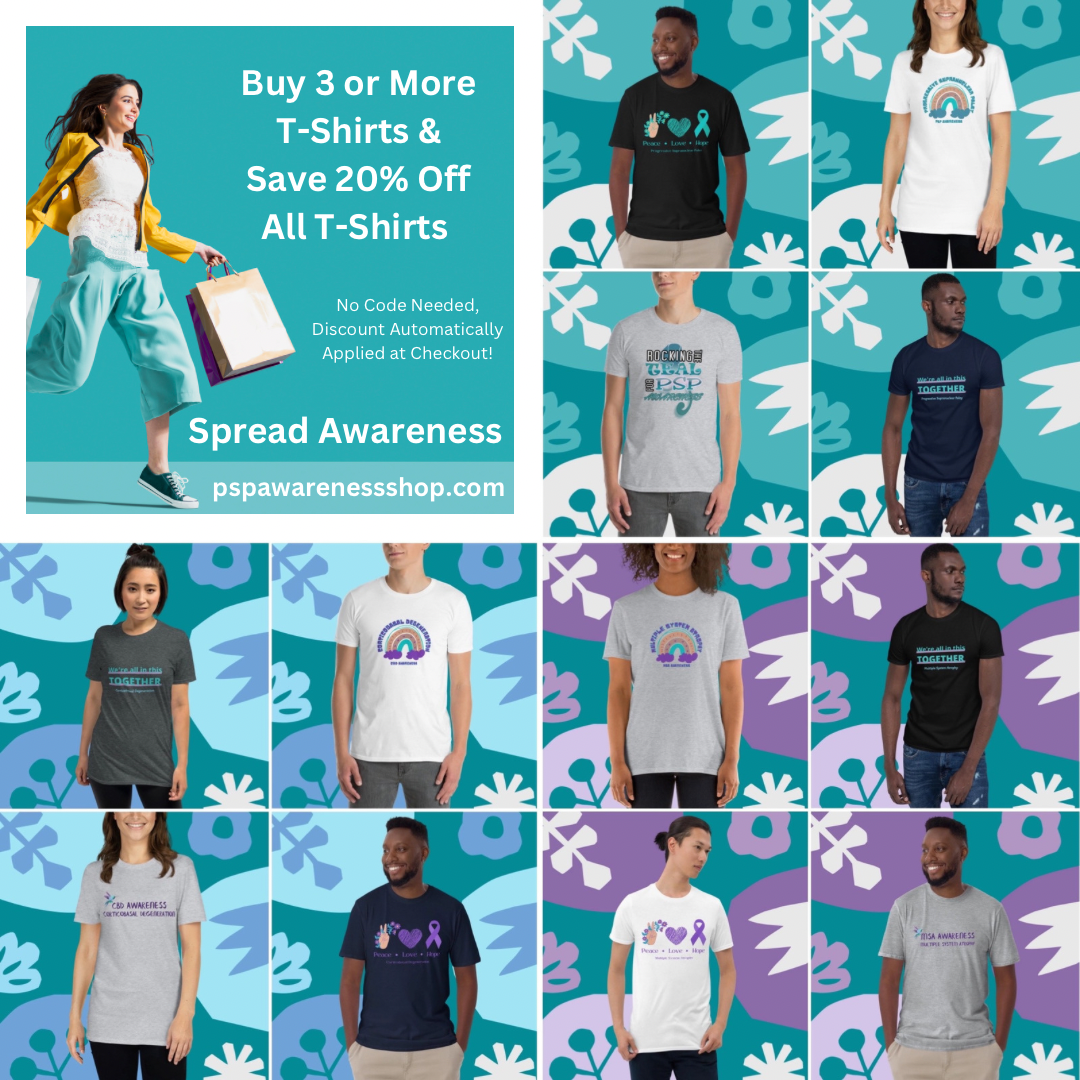 PSP Awareness Shop
Make a purchase with purpose. Each sale supports the fight against Atypical Parkinsonism through the Coleen Cunningham Foundation for PSP Awareness!
SHOP HERE